Couples are happier and more connected when they spend quality time together. But let's be honest… it's not always easy to find the time or creativity for date night. But DateNightGuide.com can help! We're dedicated to inspiring lovers like you to recharge through fun and romantic date nights. Here are 105+ date night ideas.
1. Make date night an oldie but goodie.
How? Hit up a flea market or thrift, vintage or antique store. It'll be fun to discover one-of-a-kind or eclectic pieces with your one and only love.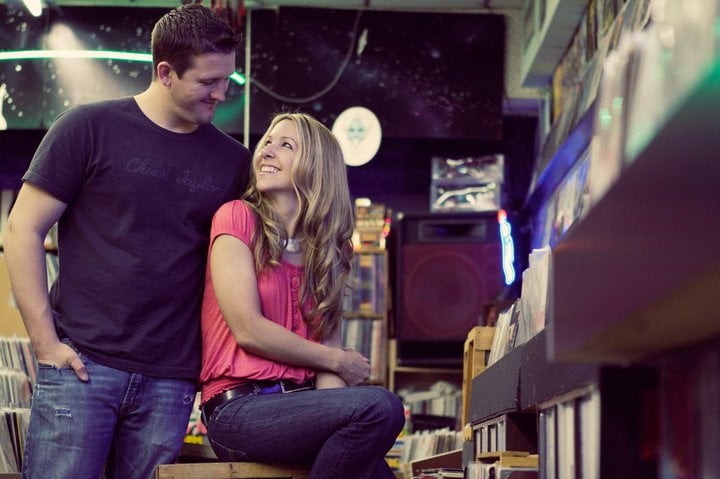 2. House party (for two) in the back.
Netflix may be your go-to for at-home date nights. But your backyard can shake things up. Set up a slip-n-slide, chase each other through the sprinklers or play tailgate-style backyard games. It's a cheap date with priceless fun… and that's a win-win for all.
3. Get fired up!
Cozy up in front of a fire for a romantic night. Or, heat things up with a beach bonfire!
4. Get your game on.
Grown-ups can play games too. Have some laughs with friendly arcade competitions of whack-a-mole and skee ball. Or, find a bar stocked with arcade games. If fact, that's the latest trend for adult beverage establishments… pinball machines, air hockey and classic arcade games.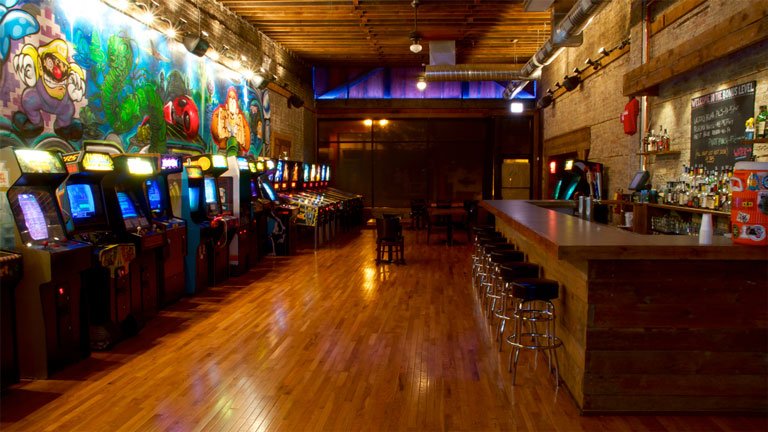 5. Hit the date night bull's-eye.
Target camp memories of love and take aim with Cupid's bow and arrow. Using an archery bow alongside your beau is sort of like hitting balls at the driving range but with sharper sporting gear…
6. Take a date cue…
Take a cue from our playbook: Rack up the solids and stripes and break out some date night fun with the cue ball. Billiards, table shuffle board and other bar games make for a true happy hour. Plus, aren't the hottest bars cooler when you can show off your skills?
7. Throw a backyard movie night.
Couples have maintained a long-standing love affair with movies. Have "reel" fun with a DIY showing with a backyard movie night date!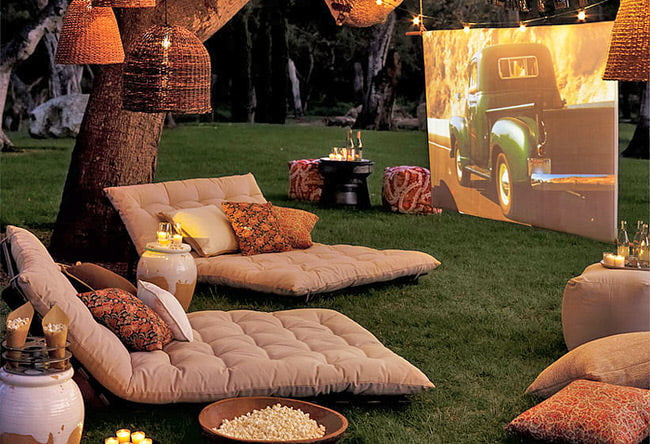 8. Make it home run guaranteed!
You may take your time rounding the bases of your sex life, but the batting cage can be the perfect date night home run whether it's your first date or your hundredth date.
9. Get crafty.
We're talking craft beer, not arts and crafts (though that's fun too). Find an outdoor beer garden and let the 'getting to know ya' conversation fly with a beer flight.
10. Pop a wheelie.
Bicycle tours can pave the way to adventure so put a spin on your standard go-to date with a two-wheeled tryst. No wheels? No worries. Most tour companies offer rentals.
11. Beach it…
Make fun in the sun a "shore" thing! Perhaps the only thing hotter than a day at the beach is a night at the beach; so prolong your beach bum status with beach camping.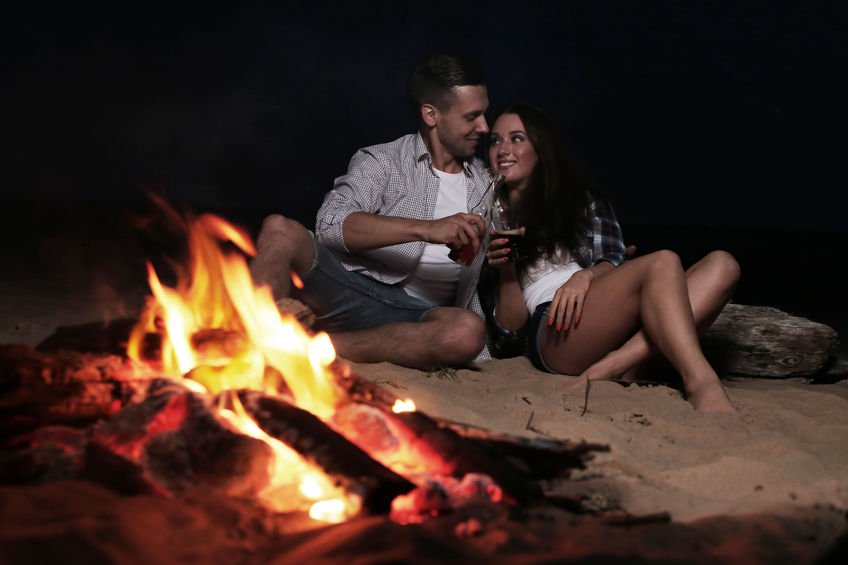 12. Board the love boat.
Make waves with a boat ride. Set sail on a scenic pontoon, fast-paced speedboat or something in between.
13. Book it.
Grab a coffee and stroll a bookstore. From skimming the pages of the best love stories to reading travel guides for your next destination date, bookshelves are stocked with date night entertainment.
14. Strike out!
Normally one wouldn't aim to strike out on date night but that's the game plan when bowling, a classic sport that you can find in any city.
15. Honor the most important meal of the day.
Whether for the morning of your first relationship sleepover, wedding anniversary or just a simple Sunday, impress your partner with an unexpected romantic breakfast in bed.
16. Cheers to beer!
Take a brewery tour. Some breweries even offer tastings and a souvenir pint glass.
17. Broaden your (culinary) horizons.
Choose a new restaurant — someplace neither of you have ever tried. Or, maybe even a different ethnic cuisine outside of your norm.
18. Build something stable.
From sandcastles to snowmen to random DIY projects, work as a team to create a one-of-a-kind masterpiece.
19. Spice up show time.
Catch a burlesque show! This art of allure performance features sensuality with a hint of fun-loving humor that may inspire your own private bedroom show.
20. Put the amp in camp.
A camping trip can be as romantic as any other getaway. Snuggle in sleeping bags under the stars or, for a more luxurious outdoor experience, find a glamping site (aka glamorous camping).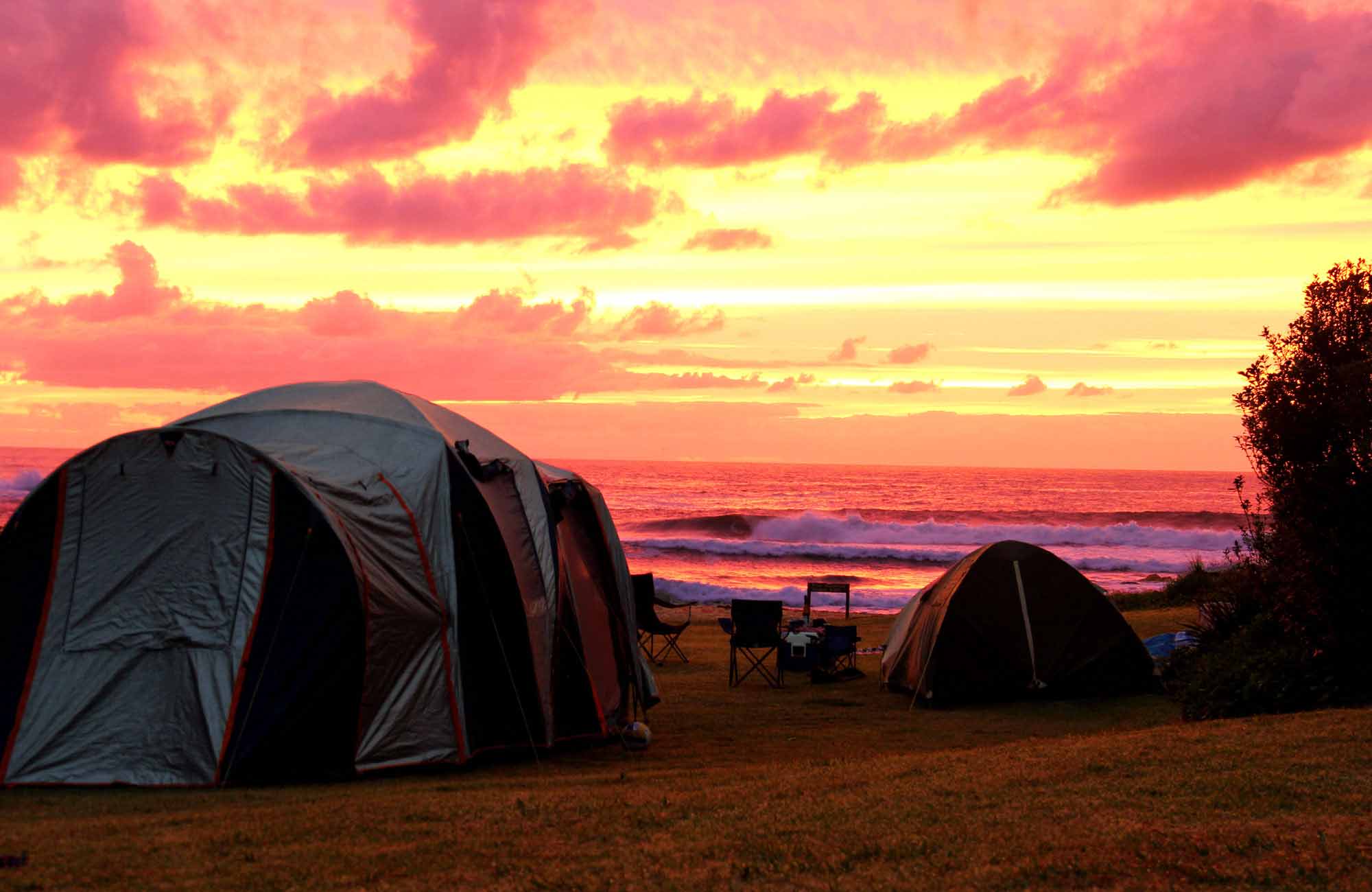 21. Bug out!
Catch fireflies or go to a butterfly garden.
22. Get cheesy together.
Pay homage to fromage with a date night cheese plate. It can be great as an appetizer while your cook dinner together, an upgrade to popcorn for Netflix binges or the perfect pairing to game night.
23. Take a seat at the table.
Whether served at a distinctive up-close kitchen booth, a pop-up dining event or intimate group table, a chef table experience is a fantastic way to feast on fresh, innovative fare served by a gourmet guru.
24. Have some java joy.
Caffeine trigger's the production of dopamine in the brain and, thus, triggers cheeriness. So hit the coffee shop for happy times.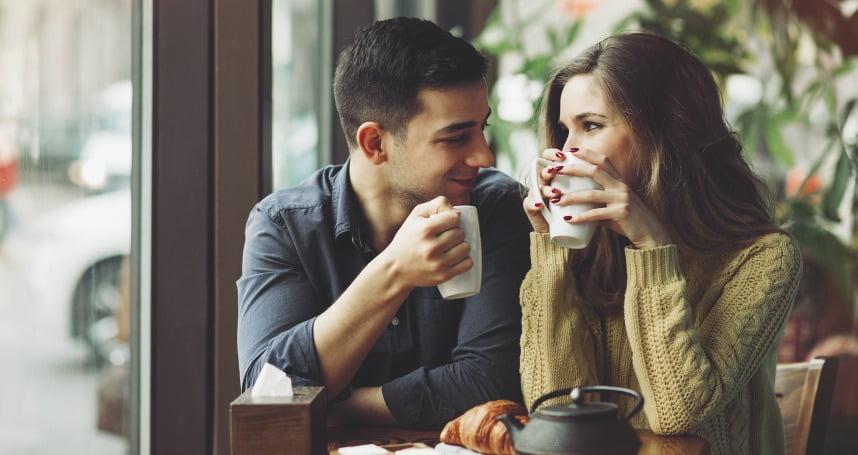 25. Work your funny bones.
Go to an improv comedy show or stand-up show and be sure to adhere to audience participation requests.
26. Tune in.
Music influences our emotions so strike a romantic cord at a concert or music festival.
27. Follow the recipe.
Turn off the TV's food shows and turn up the heat with a hands-on culinary experience. A cooking class has all the right ingredients for date night!
28. Massage the kinks.
You love to pamper your partner but let the pros pamper both of you. Splurge for a relaxing couple's message and feel zen together.
29. Step up.
Well if it worked for Channing Tatum and Jenna Dewan-Tatum, it can work for you too. From whimsical waltzes to hot salsa steps, a dance class or lesson can energize your relationship with intimate touch, teamwork and an unexpected burst of endorphins.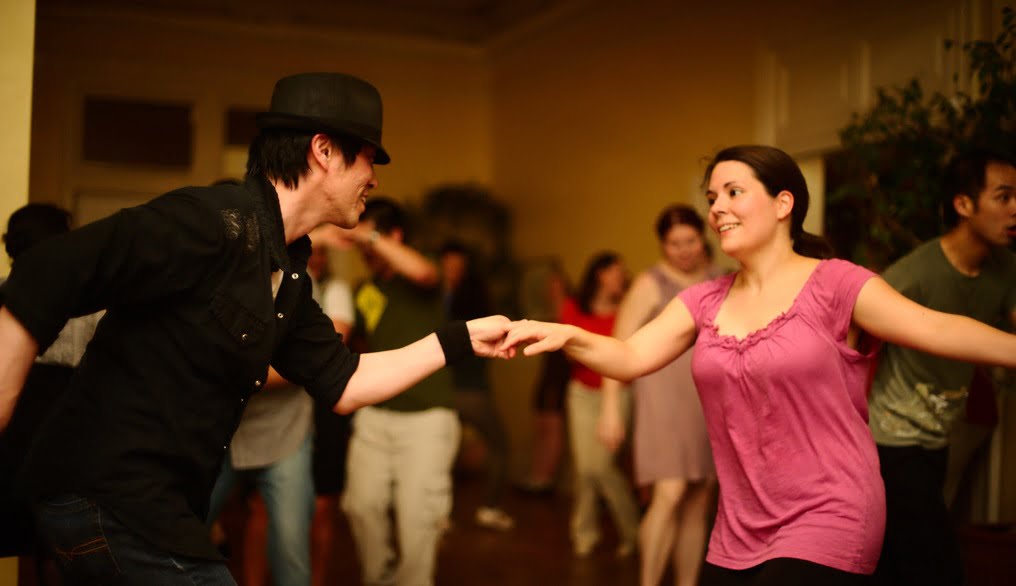 30. Eat dessert (first).
Why must we always wait until the end of a meal to dig into the good stuff? Take a departure from culinary customs and make dessert front and center. Dessert-only restaurants like Better than Sex might be on to something.
31. Chart your own course.
Set sail on a dinner cruise complete with gourmet dining, onboard entertainment and breathtaking views.
32. Reverse into movie mania.
Drive-in movie theaters present a fun, cheap and easy date night. You get to bring in your own snacks, wear comfy pajamas, engage in PDA without judgment and not have to worry about movie talkers or texters.
33. Be on par.
Swing by the driving range to have a ball of a time with the small ball sport. It can be just as fun — and more affordable — than an 18-hole round.
34. Do good on date night.
Spend time with the person you love (or are getting to know) with some do-good and feel-good volunteer activities. #DoGoodDateNight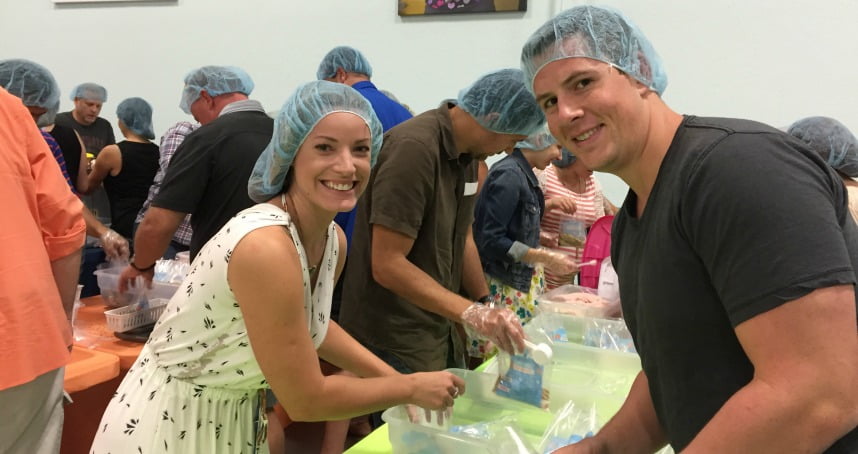 35. Be one (well, two) with nature.
Embark on eco-tours via kayak, canoe or paddle board to discover fauna and flora galore.
36. Bust a move.
No need to hustle your way to the DJ booth to make a request. Just turn on your favorite playlist and jitterbug with your love bug in your own living room. Bust a move and bust out laughing with a private dance party and dance off.
37. Get fond of fondue.
Eat up yummy how-to guides for homemade fondue. Or, head to the Melting Pot or another fondue establishment for an interactive cooking date inclusive of melted chocolate.
38. Plan to escape.
Here's a way to really get to know someone: Lock yourself in a room with that person and try to escape. Escape room challenges are a fun date night trend!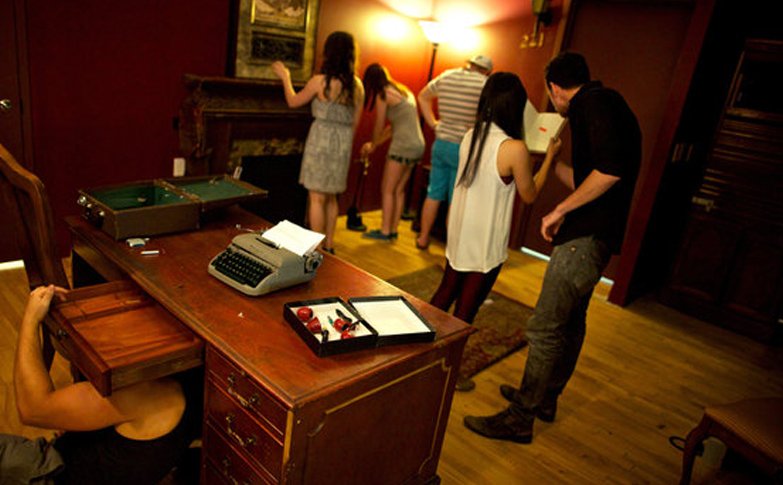 39. Be fair.
There's a fair or festival for every type of interest… arts, cultural, music, carnival, food and so on.
40. The sky's the limit.
Take date night to new heights via seaplane, hang gliding or sky diving.
41. Walk down the aisle.
Head to a gourmet grocery store, like Whole Foods or a local mom & pop shop, to stroll the aisles. Try samples, find new goodies and grab a cafeteria-style lunch. Don't forget to explore specialty retailers, such as cheese shops and candy stores, which may offer free tours and/or samples.
42. Try water wonders.
Take the plunge with water sports like white water rafting, snorkeling or scuba diving.
43. Find freshness via u-pick.
Head to u-pick farms for fresh fruit picking with the apple of your eye. This flavorful date is great in and of itself but, for an added cherry on top, use your fresh fruit to harvest even more date night fun. Use pickings on a date night cheese plate or cooking a meal together.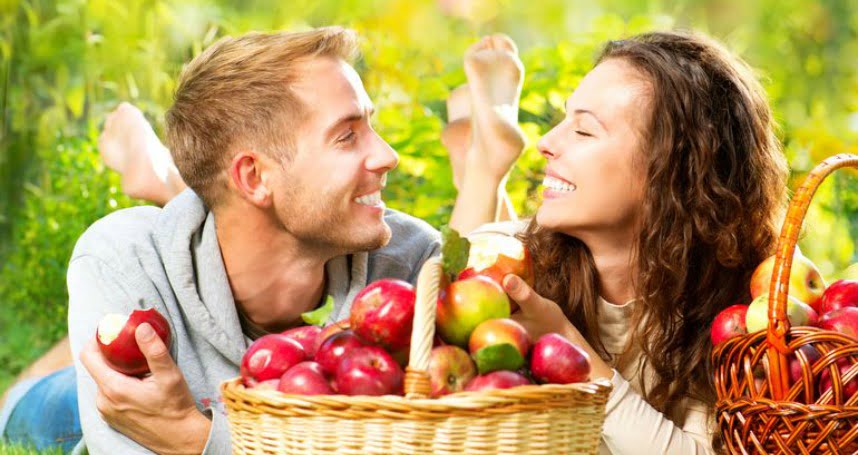 44. Break a sweat.
Exercise your date night muscle with a fitness class. Try a fun dance class (like flamenco or strip tease) and themed yoga (like aerial or SUP).
45. Be blown away.
Fly a kite and be blown away by the beauty of this cheap and colorful entertainment.
46. Take a culinary tour.
Couples are eating up the guided food tour phenomenon with culinary experts planning a moveable menu.
47. Keep trucking.
Keep foodie fun rolling at a food truck event. Wander a lot filled with sweet and savory aromas. Grab a bite here and there…
48. Disc-o on the green.
The sport of disc golf offers a fun spin on the traditional game of golf. Throw a Frisbee toward large metal basket targets on either modified golf courses or stand-alone disc golf sites. This could be a hole-in-one opportunity to do with your one-and-only.
49. To market, to market you go.
Farmer's markets are an excellent way to try local bites and more. Everything from lattes to juices, kennel corn to pickles, crepes to noodle bowls and, of course, fresh produce and locally-made goods.
50. Embrace being "board."
Couples who play together stay together. Sure, board gaming may seem simple, but this playful act allows couples to interact face to face with opportunities to laugh and even learn something new about each other.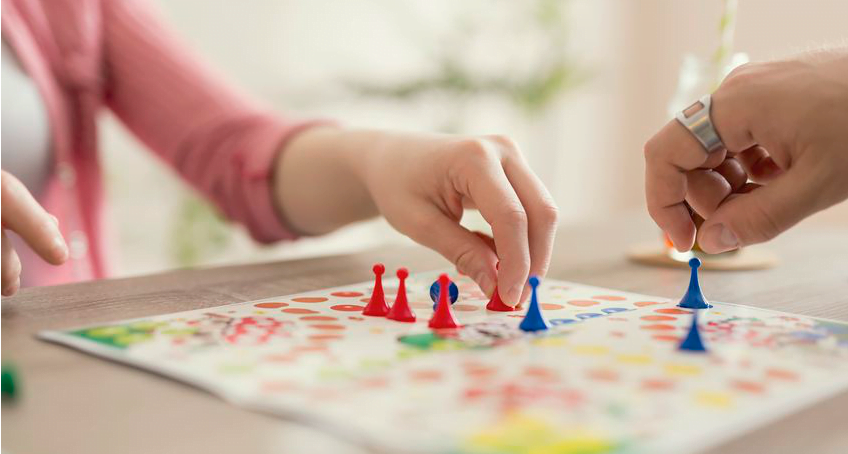 51. Let love bloom.
Stop and smell the roses (and tons of other flowers) with your love at a botanical garden. It's the perfect date for any budding romance.
52. Hunt for treasures.
Have a gem of a date night exploring together by geocaching.
53. Get spooked.
Dare to be scared together on a lighthearted ghost tour or cemetery tour.
54. Wave the victory flag.
Allow your competitive side to let loose racing around the track at an awesome go kart venue. Then, toast to your victory with a celebratory beverage.
55. Embrace puppy love.
Take Fido along to dog-friendly hot spots. You'll have a doggone great time.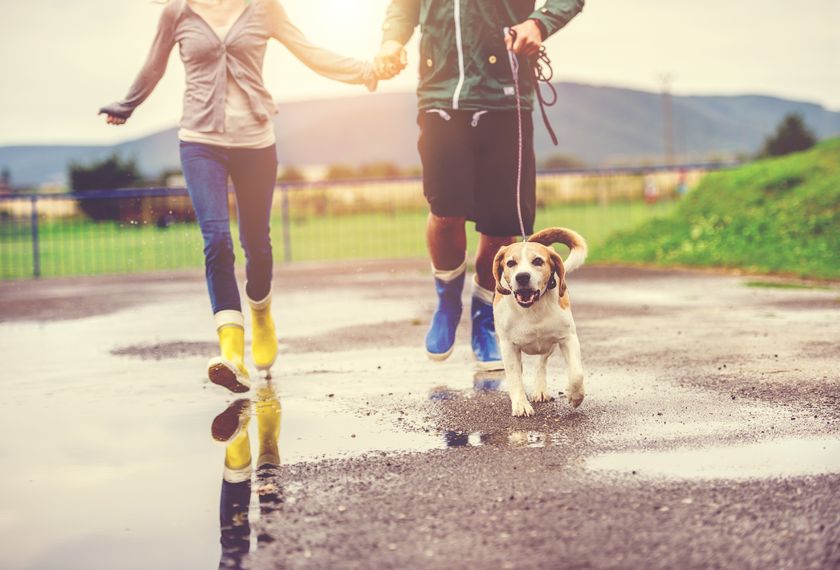 56. Have a spring fling.
Cool off in a natural spring. Tube, canoe or swim in nature's pool.
57. Be a tourist.
Hit up your town's cherished landmarks. You know you still haven't visited all of the local tourist traps. So go get trapped!
58. Walk the walk.
Sip and stroll during happy hour (or whenever) with a DIY pub crawl.
59. Park it.
Local, state and national parks are the perfect go-to for outdoorsy couples. Grab your hiking shoes, fishing pole and kayak.
60. Saddle up for the ride.
Head to the rodeo to watch cowboys, bulls and rodeo clowns. Think you can last 8 seconds? Find a country bar with a mechanical bull and test your skills.
61. Get carried away.
Take a fairytale horse-drawn carriage ride!
62. Have a whirlwind romance in the air.
Float high in the sky in a bright-colored hot air balloon. Make your whimsical ride pop with a proposal and champagne!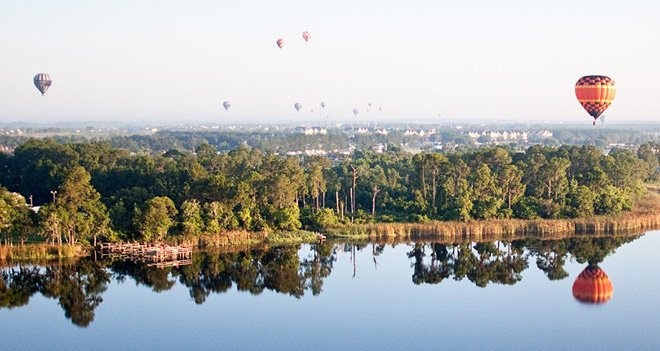 63. Have a hotel hookup.
Meet at a hotel bar to indulge in sophisticated music, swanky cocktails and a little role playing.
64. All scream for ice cream.
Single scoops just won't do. Double down by feasting on the trendiest ice cream treats.
65. Keep cool with ice ice baby…
Lace up some skates and glide hand-in-hand ice skating around the rink.
66. Jazz it up.
Hit pause on the Top 40 playlist and tune into some more soulful music alongside your soulmate. Nothing beats the energy of jazz music with a live band in a classy lounge.
67. Sexertainment!
Let Webster's Dictionary know that we've coined a new word: sexterainment = sex-focused entertainment. Sure, you could watch a porno… but how about reading a romance or erotic book together or listening to one on tape?
68. Keep it "reel."
A table for two at a seafood restaurant is delish. But seafood lovers can dive deeper into date night with wild aquatic adventures. Try fishing, crabbing, lobstering, scalloping and shrimping.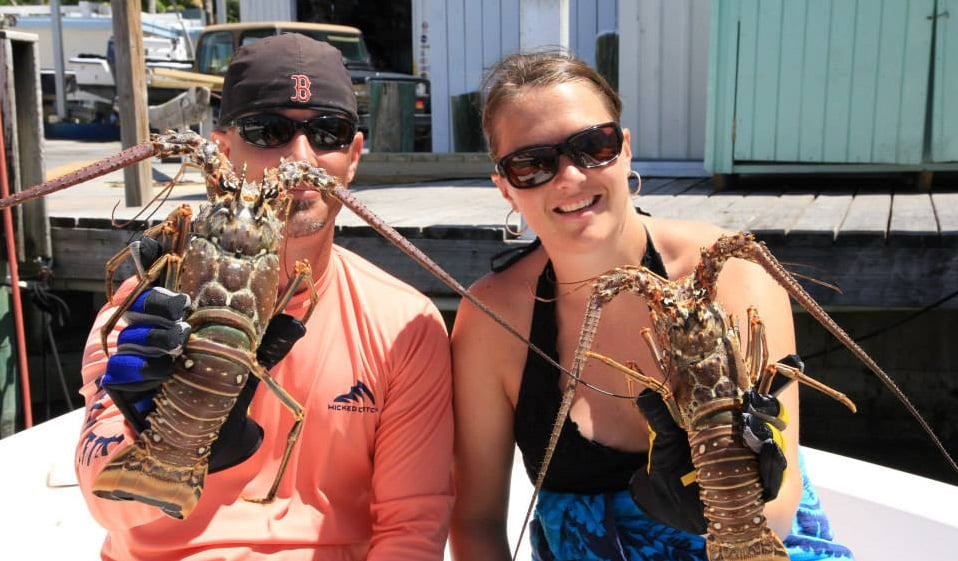 69. Be sweet.
Roast s'mores, make cookies or bake another sweet treat together.
70. Create star-studded memories.
The stars aligned to create your luminous love! So, cuddle up together for romantic stargazing or moongazing.
71. Be 'scene.'
Catching the latest blockbuster at the cinema rocks. But check out the indie film scene too at smaller theaters or area film festivals.
72. Get artsy.
Spend a rainy day at a local art museum, university gallery or rotating exhibit (like at the library).
73. Make it a duel.
Hit up a dueling piano bar where you know the entertainment is on key!
74. Have an al fresco affair.
Whether you're picnicking in a park after an adventurous hike or snacking under the stars by the lake, there's nothing quite as romantic as a laid-back picnic surrounded by nature.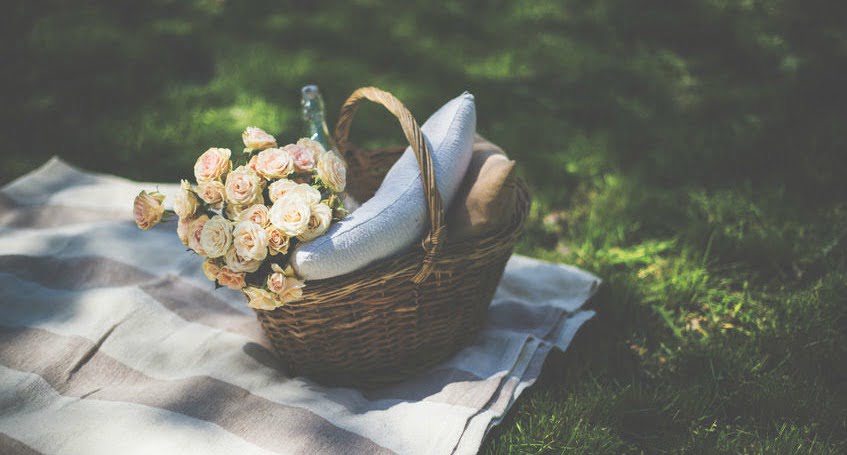 75. Have an out of this world night.
There is a science to love… so visit the planetarium or science center.
76. Understand words matter.
Let the artistic words of poetry entertain and inspire you at an open mic night. Hearing originally crafted poems can make for an original date night experience.
77. Get holed up.
Putt putt golf is fun… it's that simple. Maybe add a naughty wager to intensify the game stakes.
78. Turn back time.
Rekindle that spark but rekindling your favorite relationship moments. For example, redo your first date by visiting the same locations that you did on that very special first date.
79. Do the pool hop.
Sometimes lounging poolside is just what you need. Check out day passes for luxury resorts and bask in the sun.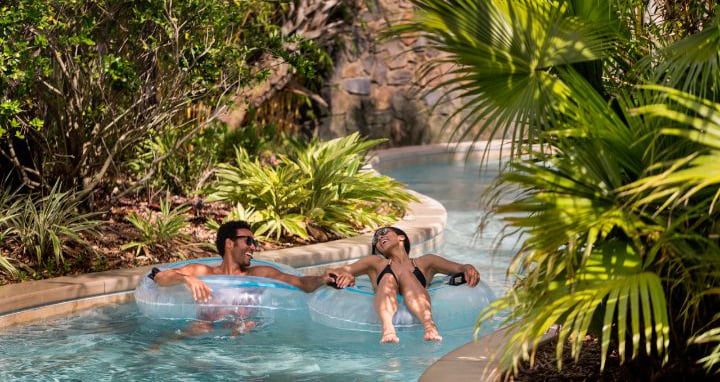 80. Mold your love.
Art studios offer date night events inclusive of instruction, alcohol and appetizers. Let love be your muse! And, maybe visualize the classic "Ghost" scene of pottery molding!
81. Progress to the next level.
The concept of a progressive dinner is simple: pick an area where there is a cluster of good restaurants within walking distance from each other and eat one dish at each of three to four places. Sit at the bar for an easy in and out.
82. Let love peak.
Trust in one another to scale a mountain. Indoor rock climbing facilities are date night must-dos.
83. Roll with it.
Head to the roller rink to roller skate or maybe watch roller derby game.
84. Be formal.
Get dressed up — like super fancy — to try out the latest romantic restaurant.
85. Kept it clean (or dirty)!
Soak up good, clean fun with a romantic at-home spa experience.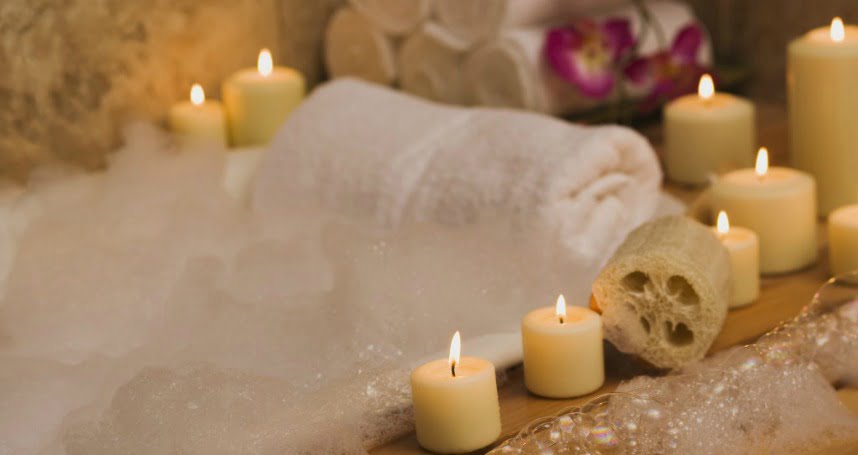 86. Whisper the secret.
Speakeasy bars are hidden gems among loud, sticky-floored pubs. Find out the night's code word and knock on the secret door. Delicious cocktails made by mustache-clad bartenders await.
87. Up your game.
Snag seats to a professional sporting game to see your favorite baseball, basketball, hockey, football or soccer stars win a place in your date night history.
88. Just stay.
Staycations are a great way to experience vacation pleasures without depleting your bank account or PTO stash! Pack an overnight bag for an over the top sleepover.
89. Cheers to brunch bliss.
Satisfy your craving for Sunday Funday with tasty combinations of breakfast and lunch items. Make brunch pop with a bubbly mimosa or bold Bloody Mary.
90. Rise to the occasion.
Sunrises and sunsets are epic times for dates. Watch your love beam too!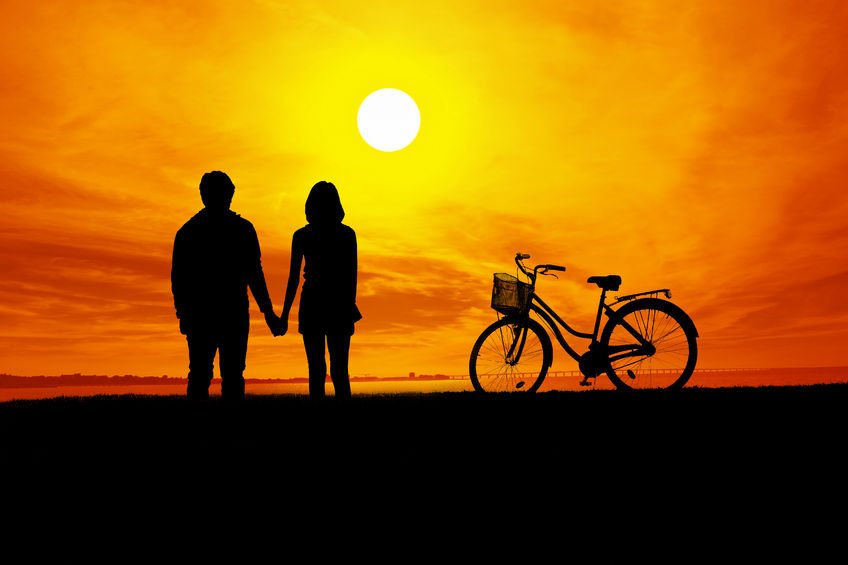 91. Bite down!
Tapas or small plates are great for date night sharing. Find a Spanish or Latin-fusion restaurant or order pub-style nibbles.
92. Let love steep.
Brew up a date night fit for a king and queen with a tea house experience. Tea can be served hot, cold or spiked and paired with finger sandwiches, pastries and more.
93. Show up.
Go to a symphony, play, ballet or opera. Traditional performing arts may be nontraditional for you, but you might end up begging for an encore.
94. Be amused.
Themed parks, water parks and carnivals can be the ultimate amusement… even for adults.
95. Take your mark…
You don't have to be an outstanding runner to enjoy themed runs. Sure, you want to cross the finish line but many themed events invite participates to focus on having fun together on the course rather than watching the clock.
96. Be unique.
Why settle for a standard hotel room when you can book a unique rental, like a houseboat, lighthouse or treehouse?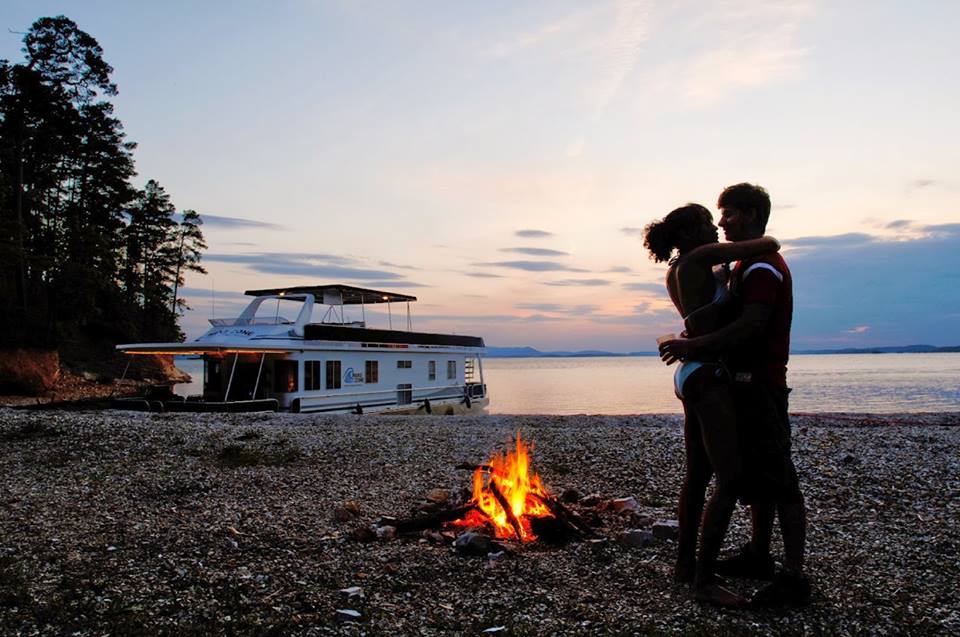 97. Be smart!
You can win a prize for drinking beer! Well, for using your trivia knowledge while drinking beer. Quite simply, pub trivia is fun. You get to work as a team with your date, nosh on pub grub and guzzle drafts.
98. Always wine (never whine).
Visit a winery to roam sprawling vineyards arm-and-arm. Then, tantalize your taste buds with a wine flight poured in a luxurious tasting room.
99. Clown around.
Sometimes you just want to clown around with your partner, right? Live out your circus clown dreams by taking a flying trapeze class, or lessons for trampolining, stilts and other impressive stunts.
100. Zip it up.
Zip line to soar like Tarzan and Jane. You can pretty much find zip lines anywhere – jungles, theme parks, etc. – so let the pulley and the harness ropes do all the work so you can focus on pulling at the heart strings of your date.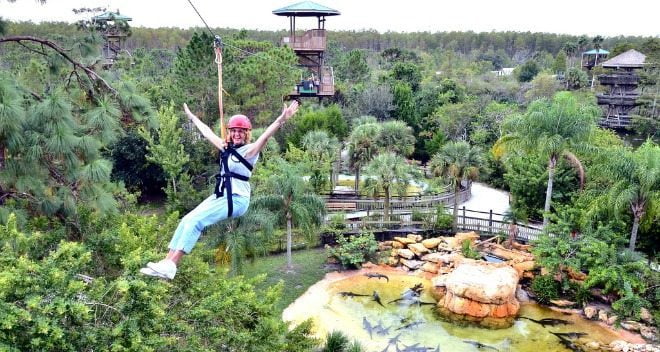 101. Unleash animal instants.
Take date night to the wild side with a visit to a zoo, especially if the zoo offers a night hike.
102. Pucker up to fish lips.
Visit the aquarium to see vibrant fish and sharks swimming in an aquatic wonderland.
103. Have a combo meal.
From Medieval competitions to murder mysteries to magic shows, themed dinner shows make the concept of dinner and a show come together with a blended union.
104. Uncork your creativity!
Art and wine pairings are among the latest date trend thanks to PaintingWithaTwist.com, PaintNite.com and other studios. You don't need to be a skilled artist to have fun because wine has a way of unleashing one's inner Picasso.
105. Let it boil.
Sure, standard backyard BBQs are fun but heat things up with a low country seafood boil.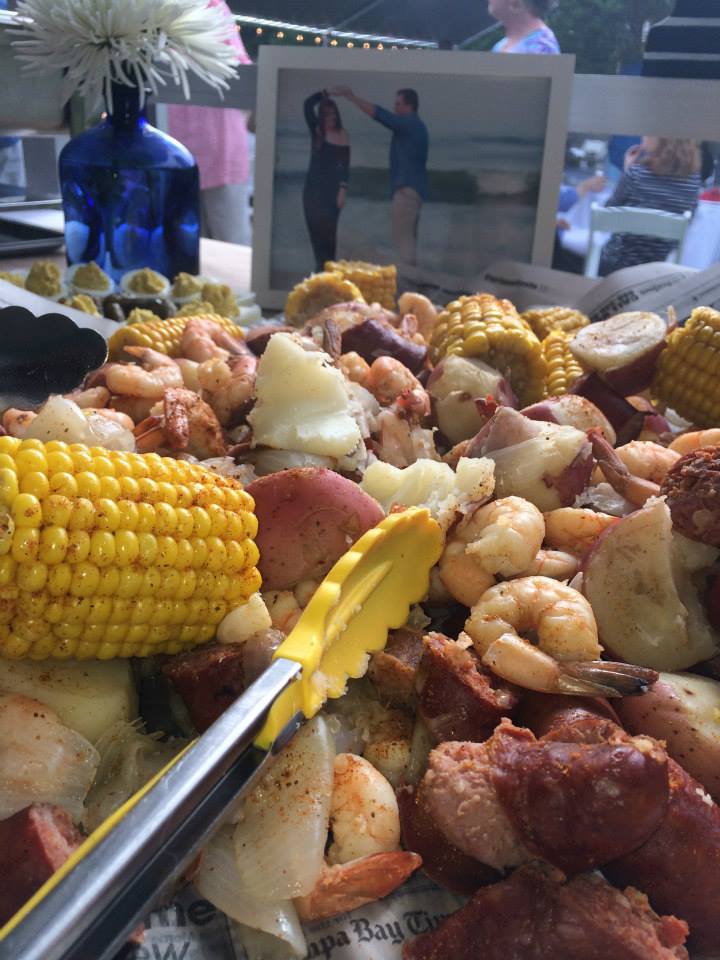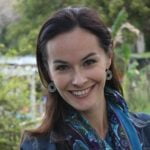 Nancy DeVault is the managing editor of Date Night Guide and a contributor to publications such as Babble, AmeriDisability Services Magazine and Orlando Magazine. She enjoys outdoor adventures with her husband and toddler.